Advocate for low-income seniors in the Coachella Valley.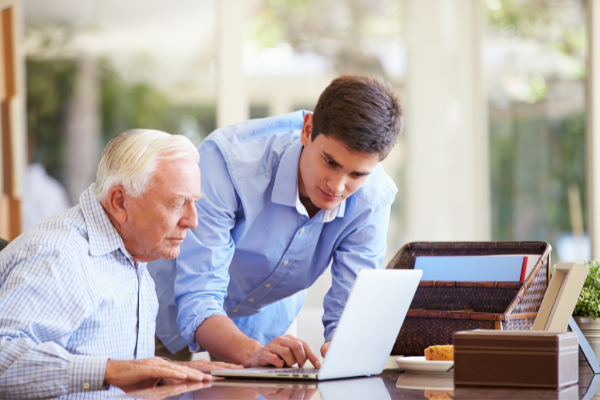 How we can help
We are Coachella Valley's only non-profit social service organization dedicated exclusively to helping low-income seniors obtain the government benefits to which they are entitled but have been unable to access on their own.
Senior Advocates of the Desert envisions a community where every senior lives a secure and dignified life by having access to healthcare, affordable housing and a livable income.
Free Service
Our services are provided free of charge to all clients. Our low overhead enables us to direct 95% of our donations to helping low-income seniors.
Who We Help
Senior Advocates of the Desert serves low-income seniors age 60 and older who live in the Coachella Valley. We help you get the benefits you deserve.
What We Do
We meet one-on-one with our clients and assist them in applying for government programs such as Medi-Cal, SSI, Medicare, VA Benefits, and more.
Testimonials
If you've ever applied for any government assistance, or if you are elderly and looking for help on your own, you can quickly become confused, overwhelmed, and deeply discouraged by the bureaucratic maze of eligibility requirements, application procedures and changing time lines. There seems to be no end to it!

That was how it was for me until I happened upon Chris O'Hanlon and Senior Advocates. After just a few minutes of talking to him, I rejoiced that I had found him. Further experience has only confirmed in me that first impression; over and over again, his knowledge, dedication, generosity, and compassion have deftly and quickly guided me to a happy and secure place.
– Dennis, Age 67
My husband and I were in our early 60's and owners of a successful small business when I had a stroke. This ended up opening the door for several years of extended hospital stays due to complications of the stroke. Always able to control my life, I became depressed after losing our business and life savings to pay medical bills.

After three years of feeling despair and helpless I called Senior Advocates and Chris put our lives back together piece by piece, never taking "no" for an answer. Chris is the "older", "much wiser" friend people always hear about, but can never find. Thank you for always continuing to fight the fight for those of us who have no voice in the system.
– Amy, Age 62
I am 92 years old and I live all alone. I needed help, but the County told me I would have to pay $700 out of pocket for help leaving me with just $600 a month to live on. I couldn't do that. Senior Advocates helped me get full Medi-Cal benefits and 104 hours of In Home Supportive Services per month. I feel like I'm on top of the world now.
– Ronald, Age 92
Senior Advocates opened my eyes to so many things. I tried for so many years to get help, but I always had the door slammed in my face. I was always told Tom didn't qualify and I always got nowhere. You feel like you are in the dark and you don't know how to go about things. Now we are not worried as much about how we are going to make it.
– Brad and Tom, Ages 57 & 67
Today I moved into a new Senior apartment that has taken me years to accomplish. When I first got into trouble I called every agency in the desert and got bounced around from one to the other. I finally called Senior Advocates and they were the only ones who came out and talked to me.

They got my Social Security and Medi-Cal straightened out and helped me get this apartment. Many times they have taken my Medi-Cal insurance away and Senior Advocates has always got it back for me. I don't know what I would have done without Senior Advocates and I thank God every day for them. They gave me my dignity back.

– Frances, Age 75
When I called Senior Advocates of the Desert I was totally down and out and I was almost going to be put on the streets. I'm 77 years old and I was turned down by Social Security so I had no income and no health insurance even though I worked enough quarters to qualify. I'm legally blind from glaucoma. I didn't have a current I.D. and no agency would give me one. I called lots of agencies and they just wanted to talk on the phone and refer me to food banks but I couldn't get there.

I called Senior Advocates of the Desert and they took me to get food, got me my I.D, and they helped me get my Social Security Retirement, Medicare and Medi-Cal. I don't know where I'd be without Senior Advocates of the Desert.
– David L., Age 77
I would never have been able to take the pressure of dealing with Medi-Cal without Senior Adovcates of the Desert's help. I am 83 years old and I get an anxiety attack every time I get something from Medi-Cal.

Being a former professional in business, I can't handle it and I think about people who don't have my experience and I worry about how they deal with all this because without Senior Advocates of the Desert I never could have handled it physically, mentally or emotionally.
– Georgia D., Age 83
With my heartfelt appreciation to Chris O'Hanlon, MSW, Senior Advocates of the Desert and all their wonderful assistance when being faced with my personal disaster in my early sixties. After 26 years as a homeowner and then suddenly losing my home, Senior Advocates assisted me by finding a county agency that provided me with a subsidized apartment.

They helped me apply for Social Security disability benefits and when I was initially denied, they helped me find an attorney who won my case on appeal. Chris was reassuring by his constant and friendly encouragement that I would make it through all the obstacles. He was like finding a true friend, and in the darkness, a beacon of hope.
– Ken A., Age 62